Hosting an open house can be extremely stressful. It can also be the key to selling your home.
Quite a dilemma!
But think about it, if you're trying to sell, an open house is bringing potentially dozens of prospective buyers through your property in one go.
It therefore pays to try to make your house as sellable as possible by thoroughly prepping it before the big day. Here are some of the best tips to make your open house a big success!
Make them Feel Welcome!
Of course you'll literally make all the visitors feel welcome!
What we mean by this is make them feel welcome even before they set foot in your house. Even something like a ratty, old welcome mat at the front door can help to set the wrong mood.
Walk up to your house as if you've never seen it before. Take a look at the weeds in the drive, look at the peeling paint around the front window or the rusty door knocker – and imagine how that would make you feel if you were considering buying this house.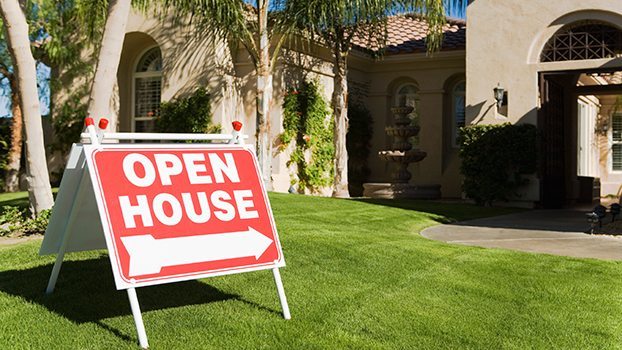 Smells Like a Good Deal
Many people think that to make a good impression, their house should smell nice. They are correct of course, but it's how they go about it that they get wrong.
Many people will simply put out bowls of pot pourri, or lots of those gel air freshener blocks. On the other end of the scale, we've all heard legends about people who bake endless trays of cookies before an open house!
These smells can actuallyput people off however – the smells that buyers like in an open house are actually clean, citrus smells. A few bowls of lemons will set the right tone.
Fix Up the Garden
The garden is an undervalued tool in an open house. Clean it up, weed it, clean the kids toys off the lawn and treat it with the same love as if it was a room in your house.
If you have decking, give it a good, deep clean and varnish to paint it – no one wants to see decking with peeling paint and rotting foundations.
If it's beyond repair, it's better to rip it down – but it's even better to replace it! Get top quality materials for the new decking – Corell Timber have some of the best on the market – and you can help show off your garden as the true asset it is. This cannot only help promote a sale – it could potentially raise the value of your home.
Paint it Perfect
Peeling wallpaper and flaking, cracked paint is not going to set the right mood for your open house.
At the same time, wallpaper can be expensive and, frankly, a pain to hang. Many homeowners leave the décor untouched before an open house in the mistaken belief buyers are looking for a blank canvas to move into.
Nothing could be further from the truth however and many buyers – especially those with families – are looking for homes they can move straight into with minimal fuss. Therefore, consider repainting in neutral colors to give each room a fresh – but not oppressive – decorative scheme that buyers can easily live with for the first few months in the house.
The Way to a Buyers' Heart
Remember those trays of cookies we mentioned above?
Ok, you don't have to go that far! But just the simple touch of placing some jugs of water, a few sandwiches and a fruit bowl can really go a long way to making a good impression in the buyer's minds.
It's likely that this is not the only open house they are visiting that day, and a cup of tea and a muffin could help them associate your house with happy thoughts and comfort – and put them in the right frame of mind to make a bid.